In an effort to increase the relevancy of search ads, Google is updating the broad match modifier and phrase match keyword match type. This change offers you more control with a broader reach. The change will result in a phrase match keyword covering additional broad match modifier traffic, while continuing to respect word order when it's important to the meaning.
This new update will give you the benefit of reach the broad match modifier offered while keeping the control given by phrase match. As a result, the phrase match will expand its reach to additional broad match modifier traffic while still maintaining the word order when it's important to the meaning.
The Current Match Type Behaviors
Currently a broad match modifier and phrase match stand as an intermediary step between the vast reach of the broad match type and the much-narrowed exact match type.
The broad match modifier regulates broad match by matching with the keywords and its close variations if they appear in any part of the search term, including queries that have words before, after, or in between the keywords.
An example being;
Your broad match modifier keywords are +mens +shoes. This would in turn match with "mens basketball shoes" or "mens size 10 shoes for running"
A phrase match narrows this down further by ensuring the order of the keywords is kept within search queries. Your phrase match keyword will only show if all of the keywords in their original order are in the search, not allowing for any words in between.
An example being;
Your phrase match keyword is "mens shoes." This will match to "mens shoes near me" and "mens shoes for sale" but not "mens running shoes"
The Updated Match Type Behavior
Beginning February 2021, phrase match keywords will expand to include the reach of the broad match modifier. Additionally, the broad match modifier match type will be completely phased out by July 2021 and the ability to create new broad match modifier keywords will no longer be available. If you have broad match modifier keywords currently in your account, they will now be acting as the updated phrase match type.
This new update will increase the reach of phrase match by including words between the keywords while maintaining control by still respecting the keyword order.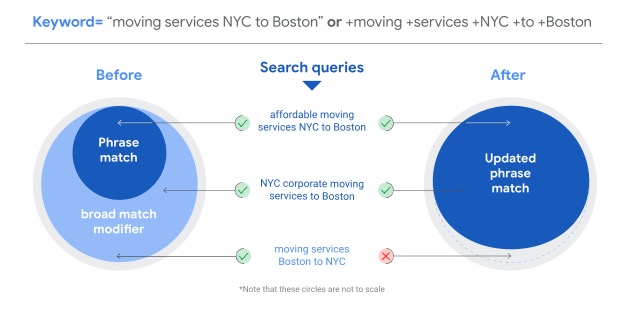 This infographic from Google illustrates how the change will work. As you can see, word order is still important. Moving services are provided from NYC to Boston, and not from Boston to NYC. The old broad match modifier would place for a search that does not benefit either the advertiser or the person searching for "moving services Boston to NYC." It is an irrelevant match.
On the other hand, the old phrase match would not place for the relevant search of "NYC corporate moving services to Boston." This is a missed opportunity. The update is intended to improve both irrelevant search results and missed opportunities. The updated phrase match would match for both of the relevant queries and not the irrelevant query.
What This Change Means for The Advertiser
Although the broad match modifier gave advertisers a wide reach, it also meant that their ads were being triggered by irrelevant searches which resulted in money wasted. This update will offer the advertisers both reach and control leading to more relevant leads and a better use of budget.
What This Change Means for The Consumer
Google prides itself on consumer satisfaction. Simply, this update will be placing only the most relevant advertisements based on the persons search query, creating a simpler, faster, and easier search.
This move is intended to improve the experience of both user and advertiser by balancing reach, relevance and performance.
Conclusion
It will be interesting to see if there are any unintended consequences from this decision and how they will impact the platform, user and advertiser. If it acts as intended, the experience for the user and advertiser alike will be improved. Increased relevance is good for both and ultimately good for Google's bottom line.
How effective this update will be at removing irrelevant ads in search results and placing ads that would have been missed opportunities remains to be seen. The logic behind it seems to be sound, hopefully that translates into how it works in practice.
Best-case scenario, this has a dramatic positive improvement in relevance of paid positions. How this decision will probably turn out, however, will be one of a slight improvement to the Google Ads platform. Compounding slight improvements can lead to major positive changes, let's hope Google keeps on making quality decisions.
Direct Placement, LLC is a digital marketing agency dedicated to shaping our advertising efforts to best fit your company's needs. We are a Google Premier Partner and Bing Ads Accredited Company that specializes in a number of digital advertising formats. From our trademarked flat-rate SEM marketing service to social media marketing and even directory profile creation, we have a number of services that we can use to help your company thrive. Contact Direct Placement, LLC to learn more about how we can start transforming your business one click at a time! You can also follow us on Facebook, Twitter, or Blogger for more regular marketing content.
Direct Placement makes paid search easy. We are a Google Premier Partner with a team of certified Professionals ready to boost your ad to the top of search results. Get started now.