A small town with a big heart, Lake Lure is home to less than 2,000 permanent residents. Despite its small population, the town has a lot to offer to visitors looking to get away on a fun and relaxing vacation. With stunning views, exciting lake activities, big events, golf and excellent hospitality, Lake Lure has all the bases covered for a fulfilling retreat. There's a reason it has been named as "One of America's Best Lakes" by USA Today.
The namesake of the town, Lake Lure is nestled between vast tree covered hills. With about 720 acres, 21 miles of shoreline and a beach area, the lake has plenty of space to accommodate whatever lake activities your heart desires. From water skiing to lounging at the beach to paddle boarding, the lake is never boring. You can even hire experienced professionals with high quality gear to maximize your lake adventure! Hit the water on a pontoon boat or glide over the surface on a tube! If you're looking for something out of the water, check out the local ziplines that take you through the Blue Ridge foothills!
Only about 20 minutes from the town of Lake Lure is Chimney Rock State Park. If you enjoy hiking and awe-inspiring views, this is definitely a destination you don't want to miss. At the heart of the historical Hickory Nut Gorge, Chimney Rock provides incredible views reaching as far as 75 miles. Hickory Nut Falls is a waterfall 404 feet high and another sight to behold. Hiking paths range from kid friendly to pretty intense for the avid hiker. The Rocky Broad River offers good fishing as well. Nature lovers will be in bliss with the best that North Carolina has to offer. Check out the Discovery Den to learn about the local wildlife and see them up close. If you are a rock climber or are interested in getting into rock climbing, the park has excellent guides that can take you to the top!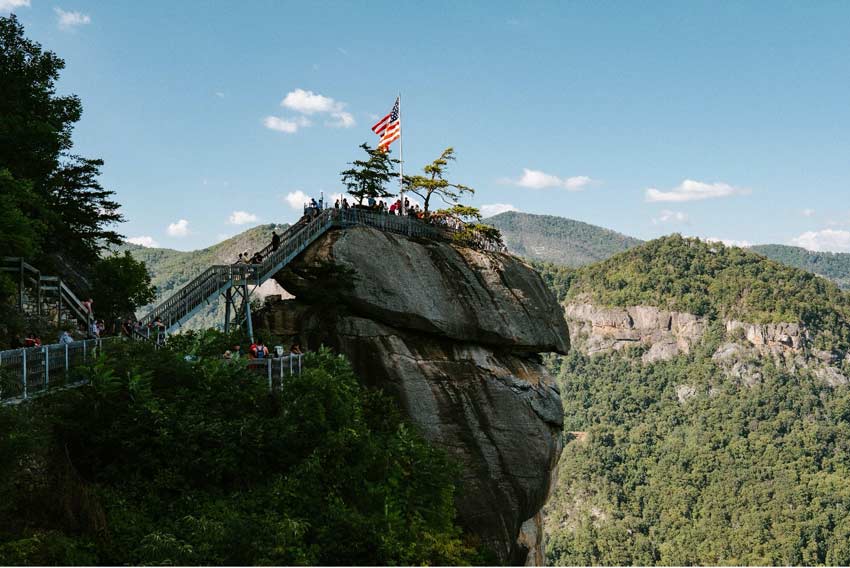 One of the most interesting features in Lake Lure is the flowering bridge. A community based non-profit designs and maintains the pedestrian bridge that crosses the Rocky Broad River. It is designed as "a gateway to somewhere beautiful" with a focus on native plants. The gardens are always open and there is no admission fee to check them out. Upstream lies a clear view of Chimney Rock and downstream is the lake. A charming walk into a charming town.
Lake Lure is very proud to be the location where the classic movie Dirty Dancing was filmed. They even have a festival dedicated to the movie. The festival features live bands, dance performances, beer/ wine gardens, dance lessons, watermelon carrying and of course a competition dedicated to the famous lake lift scene. Definitely a fun time for any lovers of the movie. Also, a portion of the proceeds go to benefit the Pancreatic Cancer Action Network! Fun with a good cause.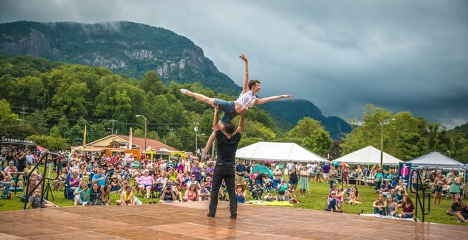 Lake Lure has an annual Olympiad competition for those that love outdoor sports. There is something for most sport lovers, including a golf tournament, pickleball tournament, triathlon, races and long-distance swim contest. One thing that is really cool about this event it that it is held for charity, having raised over $250,000 for local charities.
There are a number of golf courses that would excite even the most avid of golfers. Lake Lure Golf Club, Bald Mountain Golf Course and Apple Valley Golf Course all have a lot to offer. Grab your clubs and bring your A game!
Food, wine and beer lovers will not be disappointed. There are many places to eat and lots of wineries and breweries in the area. Whether you like Mexican food, Italian food, sandwiches, or anything in between, there are restaurants for you.
Lake Lure is a gem among the mountains in North Carolina. An amazing place for a getaway, Lake Lure will bring you whatever you're looking for in a vacation. Whether you're looking for lake fun, fishing, festivals, sports, or just a relaxing getaway with outstanding views, this charming little town has you covered.
Take a look at the VIP Vacation Rentals in Lake Lure, North Carolina and book with an owner today! Working with hundreds of vacation rental owners over the last five years, VIP Vacation Rentals has chosen to list vacation homes worldwide that are verified, trusted, and privately owned by experienced property managers. Only the most prominent, luxurious, and professionally managed vacation rental properties are selected for listing in VIP Vacation Rentals featured destinations. Own a vacation rental and want to feature it on Google? Contact Direct Placement to find out how!