Why Protect Your Site with Direct Placement?
Comprehensive cybersecurity protects your visitors and your business from the negative effects of a cyberattack. With Direct Placement cybersecurity solutions, powered by SiteLock, you gain access to the most powerful website security in the industry. Features of security packages include daily website scans, automated malware removal and vulnerability patching, and a web application firewall (WAF) to block harmful traffic from entering your site.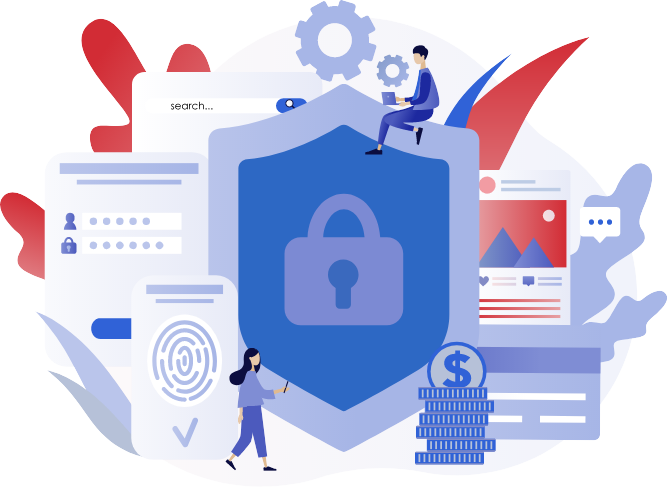 Cybersecurity Benefits:


Peace of Mind
Protect your website with automated cybersecurity technology and never worry about a compromise damaging your site, reputation, or bottom line.

Protect SEO
Secure your SEO success. If search engines find malware on your site, it could be blacklisted and removed from search results. Protect your SEO by staying malware-free.

Increase Visitor Trust
Showcase a trust badge on your site to instill customer confidence. Today, 79% of online shoppers expect to see a trust badge. Your website scanner comes with a SiteLock Trust Seal that indicates your site is safe.

Cost Savings
Reduce costs associated with site downtime, fines, and other losses that coincide with cyberattacks. Protect your website with award-winning products to find and fix threats with 99.9% accuracy.

Increase Website Speed
Increase your site speed by as much as 50% and watch your user experience and conversions improve with your SiteLock plan.

Always Informed
Be the first to know if there's malicious activity on your site with real-time email alerts. You can also review your security results from your SiteLock Dashboard at any time.

Educate and Protect Your Organization
Provide your employees security education to help prevent data breaches, ransomware, and other threats that put your business at risk.

Secure Backup and Restore
Backup and restore your website files and database with one single click, minimizing downtime and potential lost revenue while ensuring business continuity.
Cybersecurity Plans Built for You

✓ 2GB Website Backup

✓ Daily Website Scanning

✓ Daily Malware Scanning

✓ Expert Services
✓ 2GB Website Backup

✓ Daily Website Scanning

✓ Daily Malware Scanning

✓ Expert Services
✓ 5GB Website Backup

✓ 24/7/365 Website Scanning

✓ Daily Malware Scanning

✓ Expert Services
✓ 5GB Website Backup

✓ 24/7/365 Website Scanning

✓ Daily Malware Scanning

✓ Expert Services
✓ 10GB Website Backup

✓ 24/7/365 Website Scanning

✓ Daily Malware Scanning

✓ PCI Compliance

✓ Expert Services

✓ Quarterly Review
✓ 10GB Website Backup

✓ 24/7/365 Website Scanning

✓ Daily Malware Scanning

✓ PCI Compliance

✓ Expert Services

✓ Quarterly Review
✓ 10GB Website Backup

✓ 24/7/365 Website Scanning

✓ Daily Malware Scanning

✓ 1GB DDoS Firewall

✓ PCI Compliance

✓ Expert Services

✓ Quarterly Review
✓ 10GB Website Backup

✓ 24/7/365 Website Scanning

✓ Daily Malware Scanning

✓ 1GB DDoS Firewall

✓ PCI Compliance

✓ Expert Services

✓ Quarterly Review
✓ 20GB Website Backup

✓ 24/7/365 Website Scanning

✓ Daily Malware Scanning

✓ 1GB DDoS Firewall

✓ Clean traffic bandwidth 20mpbs

✓ PCI Compliance

✓ Expert Services

✓ Quarterly Review

✓ Security Awareness Training
✓ 20GB Website Backup

✓ 24/7/365 Website Scanning

✓ Daily Malware Scanning

✓ Daily Malware Scanning

✓ Clean traffic bandwidth 20mpbs

✓ PCI Compliance

✓ Expert Services

✓ Quarterly Review

✓ Security Awareness Training
✓ 30GB Website Backup

✓ 24/7/365 Website Scanning

✓ Daily Malware Scanning

✓ 1GB DDoS Firewall

✓ Clean traffic bandwidth 20mpbs

✓ PCI Compliance

✓ Expert Services

✓ Quarterly Review

✓ Security Awareness Training
✓ 30GB Website Backup

✓ 24/7/365 Website Scanning

✓ Daily Malware Scanning

✓ 1GB DDoS Firewall

✓ Clean traffic bandwidth 20mpbs

✓ PCI Compliance

✓ Expert Services

✓ Quarterly Review

✓ Security Awareness Training
All Cybersecurity Packages Include:

✔ Automatic Malware Removal
✔ Automatic Threat Detection